Storm Release: Laser Blade

Name

Rōmaji

Ranton: Rezha Tsurugi

Literal English

Storm Release: Laser Sword

Debut

Appears in

Game only

Data

Classification
Type

Storm Release

Rank

C-rank

Class

Offensive, Defensive

Range

Short-range

Users

Lightning Takeda

The list of properties to be used for the data fields has not been specified properly.
Storm Relase: Laser Sword (Ranton: Rezha Tsurugi) is a technique utilizing the Storm Kekkei Genkai.
Upon performing the necessary seals, the user holds their hand as if holding the hilt of a sword, and charges their chakra, concentrating it into the shape of a katana, rapier or whatever sword the user prefers to use. The length and width can be changed with a handseal, however, this weakens the technique by spreading the chakra.
This blade behaves much like a weakened version of the Chidori, however it does not require a catalyst for the chakra, (except in the early stages of training: at first a sword is used, then a hilt like object with a small opening at the top, and then finally when the technique is mastered, the user discards the 'catalysts.')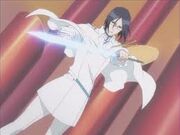 Trivia
The inspiration for this technique comes from Bleach's weapon 'Seele Schneider.' (With the SS being the hilt like ojbect during training. See picture.)
Ad blocker interference detected!
Wikia is a free-to-use site that makes money from advertising. We have a modified experience for viewers using ad blockers

Wikia is not accessible if you've made further modifications. Remove the custom ad blocker rule(s) and the page will load as expected.