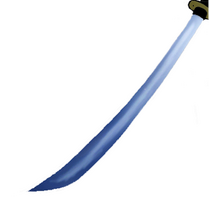 Raiton no Shin
This Blade is one that was passed down to Takeo by his Family. This Blade is meant purely for the conjunction use of this Katana and Raiton Chakra. When it is Charged with Raiton Chakra, the blade takes on an etheral blue coloring. This Katana is said to be the Sharpest when Charged with Lightning Chakra. Levy has yet to find an object, or person that its blade couldn't slice through.
Takeo has placed three different seals on the length of the blade. Each one causes the blade to obtain different effects that are unknown to everyone but himself.
1st Seal
Activating the first seal on the blade of the Raiton no Shin, the blade becomes engulfed with flames. A single swing of the blade will unleash torrental flames that reach thousands of degrees. He is also able to unlease a burst of scorching flames that reach up to fifty feet in radius. Anything within that radius will be incinerated.
2nd Seal
Activating the Second Seal on the Blade, it becomes shrouded with Lightning. The Lightning is capable of being launched at large distances. The Lightning Blast is able to blow through Rock.
Ad blocker interference detected!
Wikia is a free-to-use site that makes money from advertising. We have a modified experience for viewers using ad blockers

Wikia is not accessible if you've made further modifications. Remove the custom ad blocker rule(s) and the page will load as expected.