Black Receiver

Name

Kanji

黒い受信機

Rōmaji

Kuroi Jushinki

Games

"Black Needle" (黒針, Kokushin)

Other

"Black Rod" (黒い棒, Kuroibō), "Stake" (杭, Kui)

Debut

Appears in

Anime, Manga, Game and Movie

Data

Classification
Class

Offensive, Supplementary

Range

Short-range

Hand seals

Ram
The black receivers are tools peculiar to those who possess the Rinnegan. They're used to transmit the chakra of the user across vast distances.
Creation
The black receivers can be created through various means. Rinnegan wielders are able to generate them from their own bodies, as well as the bodies of their Six Paths of Pain. While being connected to the Demonic Statue of the Outer Path, one can also produce receivers from themselves without the Rinnegan. Identical receivers can also protrude from the Demonic Statue's midsection.
Overview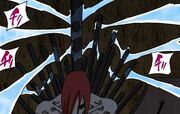 The user can generate the receivers in various shapes and sizes to fit the situation. They can act as high-frequency chakra demodulators, which become appreciably warm to the touch while receiving chakra. To make best use of the receivers, the user must transmit their chakra from the closest and highest point possible. The user can continuously change the frequency of the transmitted chakra signals to prevent being detected. As they are connected to their creator's chakra, the rods will disintegrate in the same manner as the Truth-Seeking Balls if their creator is killed or incapacitated.
Usage
Users are able to remotely control the Six Paths of Pain by implanting various receivers fashioned into piercings into their bodies. The many animals summoned through the Animal Path also have a number of these body piercings, suggesting that they may be controlled in a similar manner.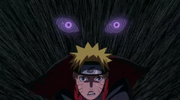 The receivers are also capable of disrupting a living individual's chakra by injecting them with the user's own chakra, hindering their movement and causing a vision of the Rinnegan to appear in their mind. By piercing the target's tenketsu with the rods, the user can entirely prevent them from molding additional chakra. However, using the receivers in this manner can potentially backfire, as an individual with sensing capabilities can determine the user's location when pierced with the rods. Those who possess the Rinnegan appear to be entirely immune to the receivers' effects.
Aside from receiving chakra, the rods can also be used to manifest chakra chains to restrain anyone who touches them with a greater binding power. A variation of the chakra receivers in the form of giant stakes can also be formed.
Ad blocker interference detected!
Wikia is a free-to-use site that makes money from advertising. We have a modified experience for viewers using ad blockers

Wikia is not accessible if you've made further modifications. Remove the custom ad blocker rule(s) and the page will load as expected.